Ad blocker interference detected!
Wikia is a free-to-use site that makes money from advertising. We have a modified experience for viewers using ad blockers

Wikia is not accessible if you've made further modifications. Remove the custom ad blocker rule(s) and the page will load as expected.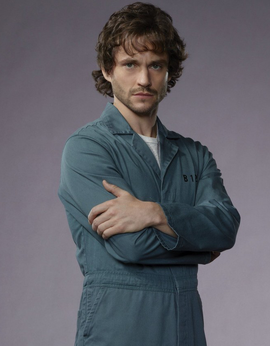 Will Graham
---
Occupation
Special investigator
Teacher
Former homicide detective
---
Appearances
Gallery (18)
Special Agent Will Graham is a former homicide detective turned teacher at the FBI Academy. After being recruited by Jack Crawford to help catch some of the most demented serial killers, Graham sparked a partnership with his FBI-appointed psychologist, Hannibal Lecter.
Biography
Edit
Will analyzes the crime scene in which Thomas and Theresa Marlow were murdered. By using his powerful imagination, Will is able to understand the killer's motives and techniques. After lecturing at the FBI Academy about this unsolved case, Will is approached by Special Agent Jack Crawford of the Behavioral Science Unit. Eight girls in Minnesota have been kidnapped, with the latest kidnapping occurring only minutes ago. Will travels with Crawford to Minnesota, where he discovers the body of the latest victim in her bed, and he realized that the killer for some reason could not do to her what he did to the other female victims, and even tried to heal her using velvet antler. It is discovered that Elise was mounted on hooks by her killer. ("Apéritif")
After suffering from night terrors involving the latest victim. Will admits to Crawford that this case is testing everything he knows about criminal profiling. Will's colleague, Dr. Alana Bloom, suggests partnering Will with her mentor, forensic psychiatrist Dr. Hannibal Lecter. At first, Lecter attempts to psychoanalyze Will, who refuses to cooperate. Another victim is found, mounted on a deer's antlers with her lung removed, taken out by the cannibalistic murderer, who turns out to be a copycat of the kidnapper from Minnesota. Will is later visited by Hannibal, and together the two track a suspect to a construction site. After deducing that the killer has a daughter of the same age and looks as the other victims, whom he is afraid of letting go, Will stumbles across the file of Garret Jacob Hobbs. Hannibal secretly warns Hobbs, who slits his wife's throat, as well as his daughter's, Abigail. Will shoots ten rounds into Hobbs, killing him, while successfully saving his daughter. Arriving at Abigail's hospital room, Will finds a sleeping Hannibal in a chair by her bed, holding her hand. ("Apéritif")
 Resources
Edit