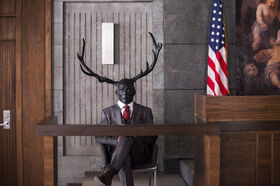 Hassun
Cast
---
---
Co-Stars
Greg Dunham as Janitor
Chronology
Gallery (0)
"Hassun" is the third episode of Season 2, and overall the sixteenth produced hour of Hannibal. It will air on March 14, 2014.
Will Graham's trial begins and he must watch as those closest to him are forced to take sides. Jack Crawford, already in hot water from Alana Bloom's scathing report about his conduct with Will, is pulled in conflicting directions. He acknowledges that he may be partially to blame for pushing his star pupil over the edge. To add confusion to an already suspenseful trial, a court bailiff is killed in a Copycat-like manner and those closest to Will start to wonder if they were wrong about him. The outcome of the entire trial hangs in the balance as one last key victim is served up.
---
Episode Title
Edit
| | | |
| --- | --- | --- |
| Hassun (八寸) |   | A second course which sets the meal's seasonal theme. |
Ad blocker interference detected!
Wikia is a free-to-use site that makes money from advertising. We have a modified experience for viewers using ad blockers

Wikia is not accessible if you've made further modifications. Remove the custom ad blocker rule(s) and the page will load as expected.