The Delicious Encyclopedia Dedicated to

's

---
---
---
---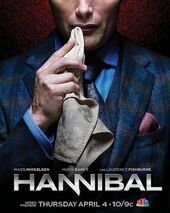 Will Graham is a gifted criminal profiler who is on the hunt for a serial killer with the FBI. Graham's unique way of thinking gives him the astonishing ability to empathize with anyone - even psychopaths. He seems to know what makes them tick. But when the mind of the twisted killer he's pursuing is too complicated for even Will to comprehend, he enlists the help of Dr. Lecter, one of the premier psychiatric minds in the country. Armed with the uncanny expertise of the brilliant doctor, Will and Hannibal (known as a serial killer only to the audience) form a brilliant partnership and it seems there's no villain they can't catch. If Will only knew...
Hannibal was created by Bryan Fuller (Pushing Daisies, Heroes), and is based on the characters from Thomas Harris' classic novels.
Ad blocker interference detected!
Wikia is a free-to-use site that makes money from advertising. We have a modified experience for viewers using ad blockers

Wikia is not accessible if you've made further modifications. Remove the custom ad blocker rule(s) and the page will load as expected.