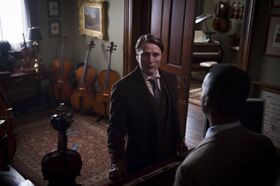 Fromage
Cast
---
---
Co-Stars
Darren Josephs as Officer Stewart


Kevan Kase as Officer Dormau
Zachary Bloch as Pre-Teen Cello Player
Carter Siddall as Douglas Wilson


Daniel von Diergardt as Douglas Wilson

Chronology
Gallery (0)
"Fromage" is the eighth episode of Season 1, and overall the eighth produced hour of Hannibal. It originally aired on May 16, 2013.
The BAU investigates a murder in which the killer exposes the victim's vocal cords to literally play them like a cello. Meanwhile, Hannibal discovers that the killer, Tobias, murdered the victim as an attempt to gain Hannibal's attention but then makes an attempt to take Lecter's life. Will is driven to distraction by strange noises in his head and turns to Alana, in a romantic way, seeking peace and stability. Hannibal describes his relationship with Will to his therapist, Dr. Bedilia Du Maurier.
---
Episode Title
Edit
| | | |
| --- | --- | --- |
| Fromage |   | The French word for "cheese." |
Ad blocker interference detected!
Wikia is a free-to-use site that makes money from advertising. We have a modified experience for viewers using ad blockers

Wikia is not accessible if you've made further modifications. Remove the custom ad blocker rule(s) and the page will load as expected.