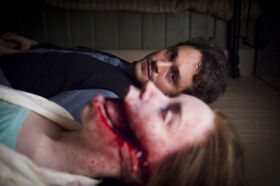 Buffet Froid
Cast
---
---
Co-Stars
Hilary Jardine as Beth LeBeau
Krista Bridges as Jocelyn Madchen
Chronology
Gallery (0)
"Buffet Froid" is the tenth episode of Season 1, and overall the tenth produced hour of Hannibal. It originally aired on May 30, 2013.
BAU investigates a murder in which two victims' faces are similarly mutilated; given a "Glasgow Smile." For the first time, Will contaminates a crime scene thinking he committed the first murder and an MRI shows he suffers from Advanced Encephalitis. But Hannibal intimidates the attending physician, Dr. Sutcliffe, into telling Will he's okay. Meanwhile, the team doubts Will who says, while revisiting the crime scene alone, he saw a mysterious, "dead-looking" woman who may be involved. With his fears fed by Hannibal, Will returns to Dr. Sutcliffe for more mental health tests, when the doctor is murdered.
---
Episode Title
Edit
| | | |
| --- | --- | --- |
| Buffet Froid |   | The French term for "cold cuts." |
Ad blocker interference detected!
Wikia is a free-to-use site that makes money from advertising. We have a modified experience for viewers using ad blockers

Wikia is not accessible if you've made further modifications. Remove the custom ad blocker rule(s) and the page will load as expected.